Develop your own e-website (Paris East)
Building your own professional looking website is now a possibility. How to design and develop your own website is now the first step to understand how to sell online or promote your ideas.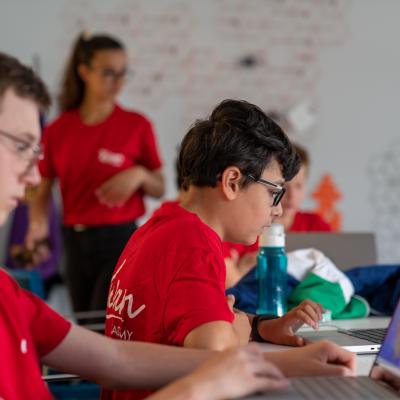 Structure
Create your website automatically generates with info from your Google listing.
Customize your site with text, photos, and design themes.
Choose a domain and put your site live. It will look great on every screen
Understand how works Google and Google Adwords
How to stand out
In this course, your student will:
Design and develop your own website
Use wordpress or wix.com
How to refer your website
How to create a buzz
Create and animate your community
Your student will take home:
Student's Progress
Students dive into a set of real life problems, using the framework of design thinking to tackle the problems.
Our professional coaches teach from real use cases provided with the Startup supporting MyKwanacademy
Student interacts with entrepreneurs and visit their company
They must promote their ideas by speaking in front of the audience
Now, it is time to change the world with our coding and STEM skills!
Structure
Ages from 9
Skill Level > Beginner–Advanced
Format 5 days
From 9.00 am to 5.00 pm
Lunch
10 max per class*
*Requires at least 4 students to form a class Late and early pick up and drop off upon request available
Term
View Class Calendar
Language(s)
English
Follow up
MOOC
Personal coach program
Digital marketing
Every session ends by an oral presentation in front of the class and a vote by the class of the best project. It helps to be able to speak in public and structure slideshow timing and arguments.
This can be considered as an internship. The student will be awarded à certificate of achievement.
EARLY BIRD - enter the code "2020" to get 20% off