Boost your Youtube Channel (Luxembourg)
Before you do anything, you need to figure out what you're hoping to get out of building a presence on YouTube. This program will help you decide what type of videos you want to create and define the right audience for your content. Having a goal in mind from the start means you'll be creating content that your audience will want to subscribe to, bookmark, and share with a friend or colleague. If you focus on content that is useful to your audience, your viewers will see you as a trusted resource of information.
1911
Luxembourg
Luxembourg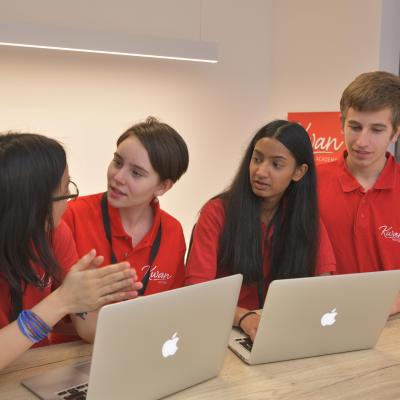 Video content can help your branding efforts and show off your business expertise; but it's also a great way to entertain, educate, and connect with people. To unlock some of the amazing opportunities YouTube can offer your business, the camp will be dedicated on how marketing for your business?
In this course, the student will: 
Shoot Video with an Ipad or à Cell phone indoor and outdoor
Use light to have à nice picture
Capture sounds indoor and outdoor
Edit your videos
Upload your contents
Market your channel
Define your branding
Channel Icon
Channel Art
Create playlist
Share yours videos
Boost your audience on social networks
Analyse your data
The student will take home:
Student's Progress
Start by exploring the fundamentals of computer science using block-based language
Students dive into a set of real life problems, using the framework of design thinking to tackle the problems.
Our professional coachs teach from real use cases provided with the Startup supporting MyKwanacademy
Student interacts with entrepreneurs and visit their company
They must promote their ideas by speaking in front of the audience
Now, it is time to change the world with our coding and STEM skills!
Format
Ages from 13
Skill Level > Beginner–Advanced
Format 5 days
From 9.00 to 5.00 pm
Lunch
10 max per class*
On request : half-day from 9 am to 12:30 pm (contact us)
*Requires at least 4 students to form a class
Late and early pick up and drop off upon request available
Term
View Class Calendar
Language(s)
English
EARLY BIRD - enter the code "2020" to get 20% off